Description
Vic Noble & Darko Ali – Training Webinar for the ACAT system
Sale page_https://www.forexmentor.com/acat/
Archive: https://archive.fo/NjOe1
Like many of you, Darko has a very busy life and he doesn't want to be glued to his trading station all day long! So he set out to create more of a set-and-forget way of trading the Forex…for himself. This was the impetus behind ACAT.
He was looking for an approach that used the same basic principles of support and resistance and price action reading that has been taught in the Coach's Corner service since 2006 (and that he has greatly improved upon). But he wanted something that he could see quickly and easily just by glancing at a chart for seconds, and required minimal babysitting. Tall order? Well…
In 2018, Darko started developing the pieces of the system we now call ACAT. This took many, many hours of working in the back-ground, back-testing, live testing and refining the trading rules.
Darko's original thought was simply to develop this for himself, to satisfy his own situation and lifestyle. But something happened that he had not expected: His early results were extremely encouraging, and his excitement led him to do further testing to see how it performed over a much longer period of time, and under different market conditions.
After months and months of testing, it became apparent that not only were his initial promising results no fluke, but that he was on to something significant. Something that would not only benefit him, but would be an extremely good trading approach to share with our Coach's Corner members. (If you didn't already know, the end-game with EVERYTHING that Darko does is to help our CC members).
It was a no-brainer decision to share the ACAT approach with the CC members. When you look at the benefits listed below, you'll see why.
So…in June of 2019, he let the "ACAT out of the bag" so to speak! The CC members were introduced to ACAT trading with great anticipation, and within a very short period of time, they fell in love with the power and simplicity of the system.
The CC members were advised to NOT trade ACAT in their live accounts, as Darko felt it still needed more live testing and verification. He didn't want to release it until he was truly confident that it had been perfected and ready to go. This meant more testing, but more importantly, our CC members themselves were involved in the testing process.
And here are the results as of this writing:
TRADING RECORD BASED ON PMA
Below you will find the trading record based on the Premarket Analysis (PMA) videos from Coach's Corner: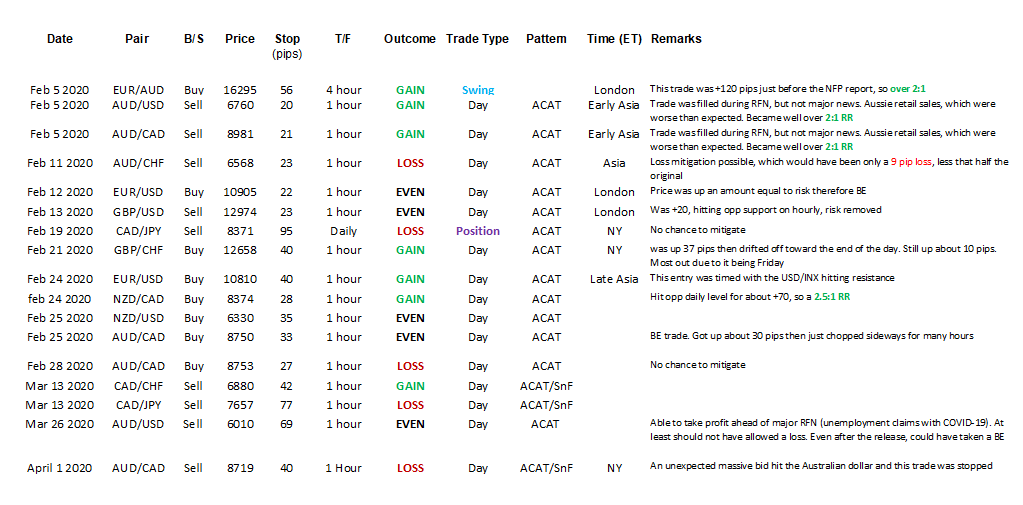 I think you will agree that the accuracy and the large moves captured by ACAT are impressive!
By now, you are probably wondering what is this ACAT thing all about?. Let us summarize it for you…
Pure price action trading. No indicators.
A simple strategy to implement using established support resistance and candle formations.
It is an "end-of-period" strategy, depending on your trading style. (Monthly, Weekly, Daily, 4Hour)
Reduces the need to babysit trades.
WHAT CAN ACAT DO FOR YOU…
Here's how you can benefit from ACAT…
ACAT does not use any indicators.
ACAT is pure price action based trading.
ACAT is actually a very simple concept to apply.
ACAT does not require that you babysit trades if you have a day job. Can be managed with a smartphone.
ACAT allows you to quickly identify trade setups (very visual).
ACAT is easy for beginning traders to learn.
ACAT uses the same core basics that have always been taught in the CC service.
ACAT can be learned quite quickly (depending on experience level), in may cases within a few weeks.
HOW TO LEARN ACAT?
We held a special training webinar event on August 27th 2019. In this webinar, Darko covered the entire system in great detail, nothing left out.
This is one of those training events that will literally change the way you view the market, no matter how you currently trade.