Description
Vic Noble & Darko Ali – THE ULTIMATE COACH'S CORNER FOREX VIDEO LIBRARY
Sale page_https://www.forexmentor.com/ccvideos/
Archive: https://archive.fo/Z8trH
WHAT IS THE ULTIMATE CC FOREX VIDEO LIBRARY?
Members of Forex Coach's Corner (CC) service receive daily, before-the-fact video anlysis for most Forex pairs from Darko. Over the past few years Darko has used videos to not only alert our members of potential setups and trading opportunties, but also to offer indepth training to our CC members.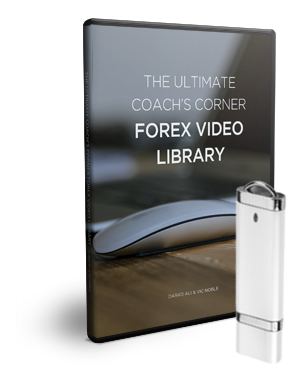 Teaching Forex trading is Darko's passion. He's always excited to use these videos to discuss particular aspects of Forex trading he feels are important. Topics such as support & resistance, chart reading, market structure, risk mangement, top-down analysis and trading psychology. These videos by themselves are so packed with powerful and useful knowledge that we felt it would be hugely beneficial to put them all in one place for traders to have permanent access to.
Over the past few months, we have been compiling a comprehensive library of these videos that respresent the best educational content from Darko. Some of the topics included are:
Support and Resistance
General Chart Reading
Market Structure
Trade Setups
Advanced Candle Action Trading
Trade and Risk Management
Trading Psychology
Motivational Videos
…and much more! see full index
IMPORTANT TOPICS
Support and Resistance
S&R is critical and foundational to every single one of our setups. We NEVER take trades UNLESS they are at key levels of higher time frame S&R. You'll see exactly how to draw these levels properly, find SUPER levels of S&R, and learn other distinguishing features that only the best S&R levels possess.
General Chart Reading
There is no getting around the fact that you MUST become a good chart reader. Darko has put together a video that explains how he goes through his chart reading exercises every single day. Yes, as good a trader as he is, he practices chart reading every single day. And he'll show you how.
In this section, you'll also learn about "order consumption" and why it's important to recognize it.
Also, if you trade the EUR/USD, you MUST understand it's relationship to the U.S. Dollar index…and you will, by listening to a video on just this topic.
In another video in the "General Chart Reading" category, you'll see (maybe for your first time ever), just how important a monthly candle can be.
And finally, Darko will go through a game plan for each trading style.
Chart Reading and Market Structure
Learn all about Advanced Market Flow to put you in alignment with the true bias of any market from a structural point of view. You'll also be shown the important differences between impulse legs, anchor legs, swing breaks and rotations, and what they mean. Plus…you'll learn what a complex pullback is. Understand this very easy-to-learn concept, and you'll see exactly why most trades make the mistake of thinking there is a change in trend, when the market is actually just making a complex pullback!
This is truly a "no-holds-barred" resource that we believe will be the most valuable resource you'll have. It's no-nonsense, and it works!
Trade Setups
Once the charts have been analyzed, it's time to look for setups. And we have greatly simplified this job by only looking for 4 main setups: Advanced Candle Action Trades (ACAT), Swing Breaks, Rotations, or Set & Forget. That's it. Darko has made separate videos for each of these trade setups.
You'll also learn how to Position Trade like a pro, how to Swing Trade like a pro, how to Day Trade like a pro and…how to Scalp Trade like a pro! In addition, Darko made a special video on How to Improve Your Scalping.
Other Topics
On top of all of the above topics, you'll receive 2 other videos. The first one will show you how to trade when you can't be at your computer, and the second one will show you how to trade S/R levels when there is no historical data.
As you can see, this is a unique resource that is packed with the best of the best educational videos that Darko has ever recorded. They contain the concepts that have allowed him to become a very consistently profitable trader since 2016 – in all market conditions.
We all know that the fastest way to success is through modeling. Find someone who is getting the results that you want, and model after them. The Ultimate Coach's Corner Forex Video Library is a resource that you simply don't want to be without. Model what Darko has done, and we're confident these videos will have a major, positive impact on your trading.